Slow Edit
Leith School of Art, Edinburgh
15 September - 9 December 2023

This exhibition of ceramics and accompanying works explores the materiality of domestic space – the walls, wallpaper, and personal paraphernalia that are the stuff of our immediate surroundings at home.

The works invite reflection on how we write ourselves into the spaces we live in and why we keep the things we keep: the hundreds of photos of nameless views; the albums collected from the chemist still in their original packaging; the children's drawings that make it onto the kitchen wall and stay there.

The starting point for Slow Edit was a stack of 90s paper photo albums from the artist's childhood and the textured wallpaper that covers her studio walls. With digital technology increasingly replacing the paper trails of lives lived, the works explore how our memories are embedded in the materials around us and within the material culture of our times.



Quick Photo series
2023
Glazed stoneware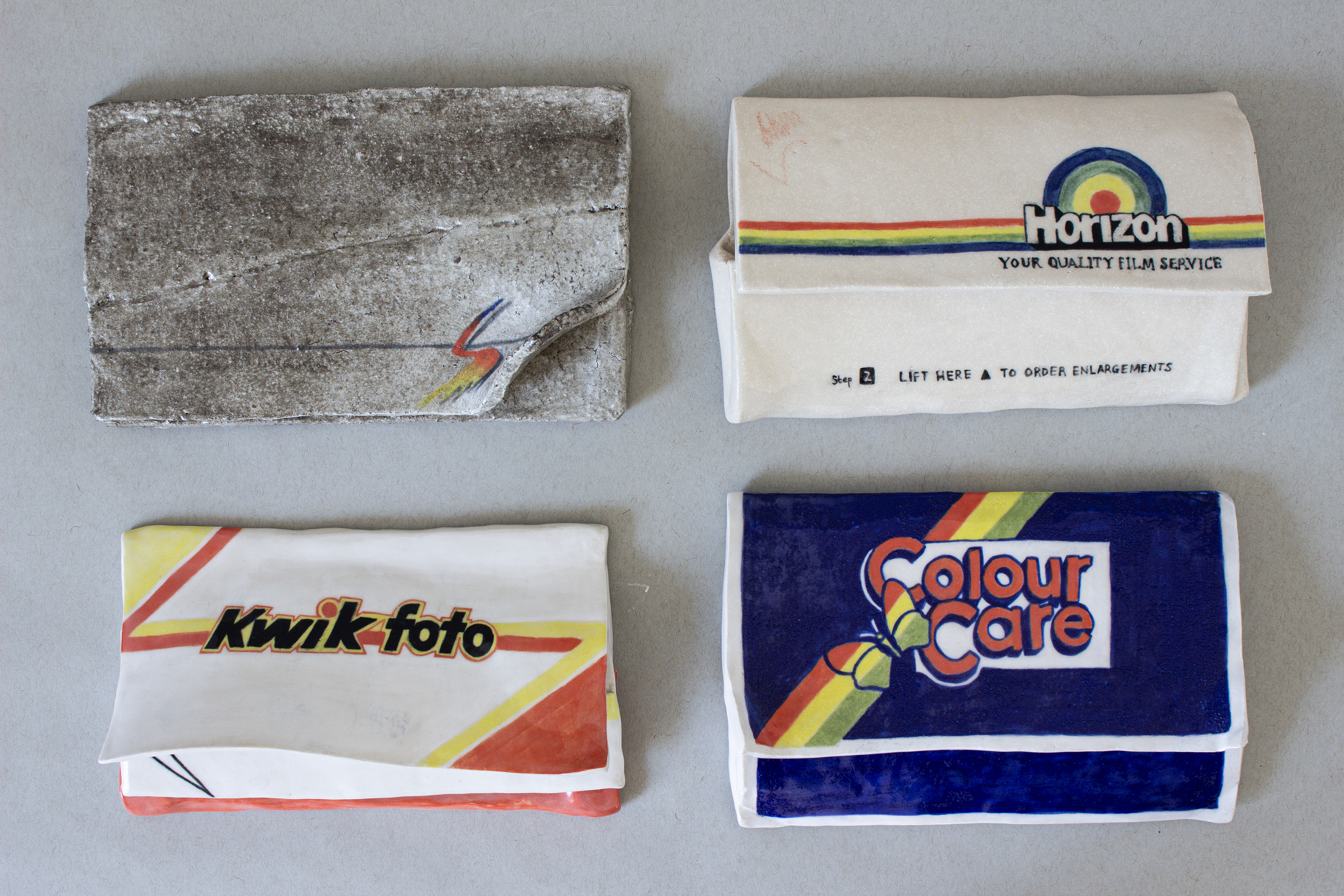 Left:
Fingers
2023
Stoneware with glaze
9x 28cm

Right:
Siblings
2023
Stoneware with glaze
28 x 28cm

House piece (i-iii)
2023
Glazed stoneware with acrylic and varnish
24 x 24cm
Crack

2023
Stoneware with glaze, acrylic and varnish
28 x 38cm
Worn (i)

2023
Stoneware
30 x 30 x 12cm
Worn (ii)

2023
Stoneware
30 x 30 x 12cm
Left:

Flaking
2023
Stoneware with glaze
30 x 37cm
Right:

Pattern

2023
Plaster
40 x 55cm
Looking through photos
2023
Assorted fabrics
90 x 210cm


Fabrications
Verdant Works, Dundee
5 August - 26 November 2023

Fabrications is about acts of making and making things up. Often taking a childhood photo as a starting point, Becky Brewis handmakes large, mixed-media jute embroideries which explore the outer edges of memory – where fact becomes fantasy, and the personal becomes mythic.

Jute is tough and hard-wearing but also yielding and easily frayed at the edges, making it an expressive medium for exploring memory, physicality and the passage of time.

These five works are presented in the context of the social history galleries at Verdant Works, where human stories are told through the lens of the jute-making process.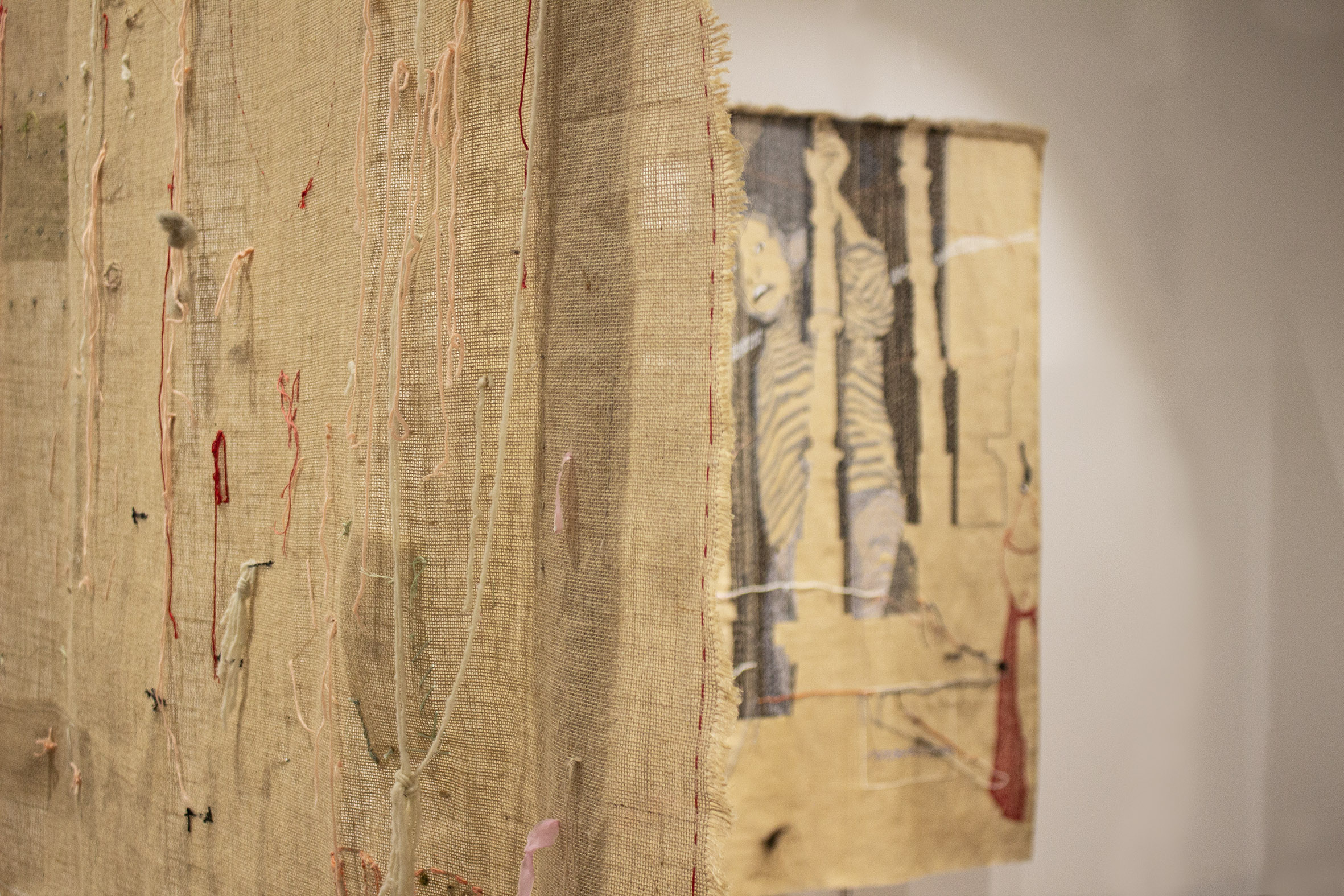 Surgery Waiting Room in about 1995
2020
Mixed media
150cm x 180cm
Shadow
2023
Jute and embroidery silks
12cm x 18cm


Good hair, good teeth, good skin
2019
Mixed media
150cm x 180cm

Legs
2019
Mixed media embroidery
75cm x 150cm



Little Red Riding Hood
2022
Jute and mixed media
150cm(w) x 185cm(h)

Clootie Well for Hospitalfield
2022

Collaborative installation




As Lead Artist on the Young Artist programme at Hospitalfield, I worked with a group of targeted young people from Angus on Saturdays for 20 weeks. As well as making their own work and learning new skills, the group explored the house's history and collections, and for the culmination of the project, installed an exhibition that ran across the grounds and historic rooms.

Alongside this, I developed Clootie Well for Hospitalfield with the aim of creating an ending ritual for the Young Artist Club's final meeting.

Drawing on Hospitalfield's early history as a place of healing and pilgrimage, and linking this with the ancient celtic tradition of making wishes at holy springs by tying pieces of cloth to nearby branches, the group transformed the Victorian fernery into a colourful grotto, installing textile pieces and making weavings using the metalwork on site.

As the young people made their work we reflected on how they had grown in confidence and made new friends. We ended the session with each member of the group tying a ribbon and making a private wish for themselves. The following day, as part of their exhibition, they invited their families to do the same, so that the installation was added to throughout the day.

Text from exhibition catalogue:

Clootie Well for Hospitalfield reimagines the fernery as a centre for pilgrimage and healing. A site-specific collaborative weaving will link Hospitalfield's early history, as a hospital for pilgrims travelling to Arbroath Abbey, with the pre-Christian tradition of Clootie Wells. These were holy wells associated with healing, where pilgrims would dip strips of cloth in the water before tying them to trees as part of a wishing ritual. Ferns are ancient plants and have long been associated with sacredness. Visitors can add their own ribbon to the Young Artists' installation and make a wish.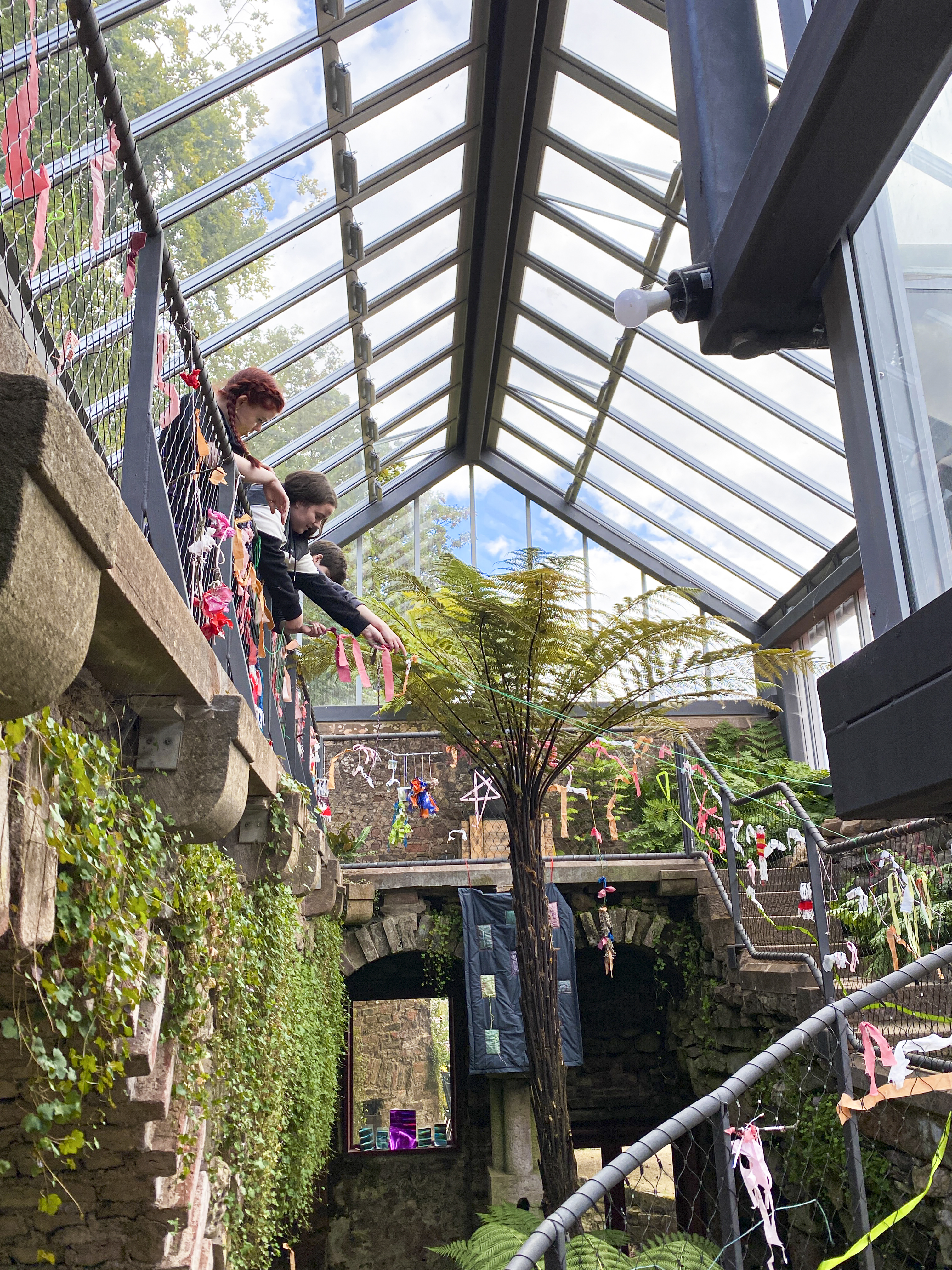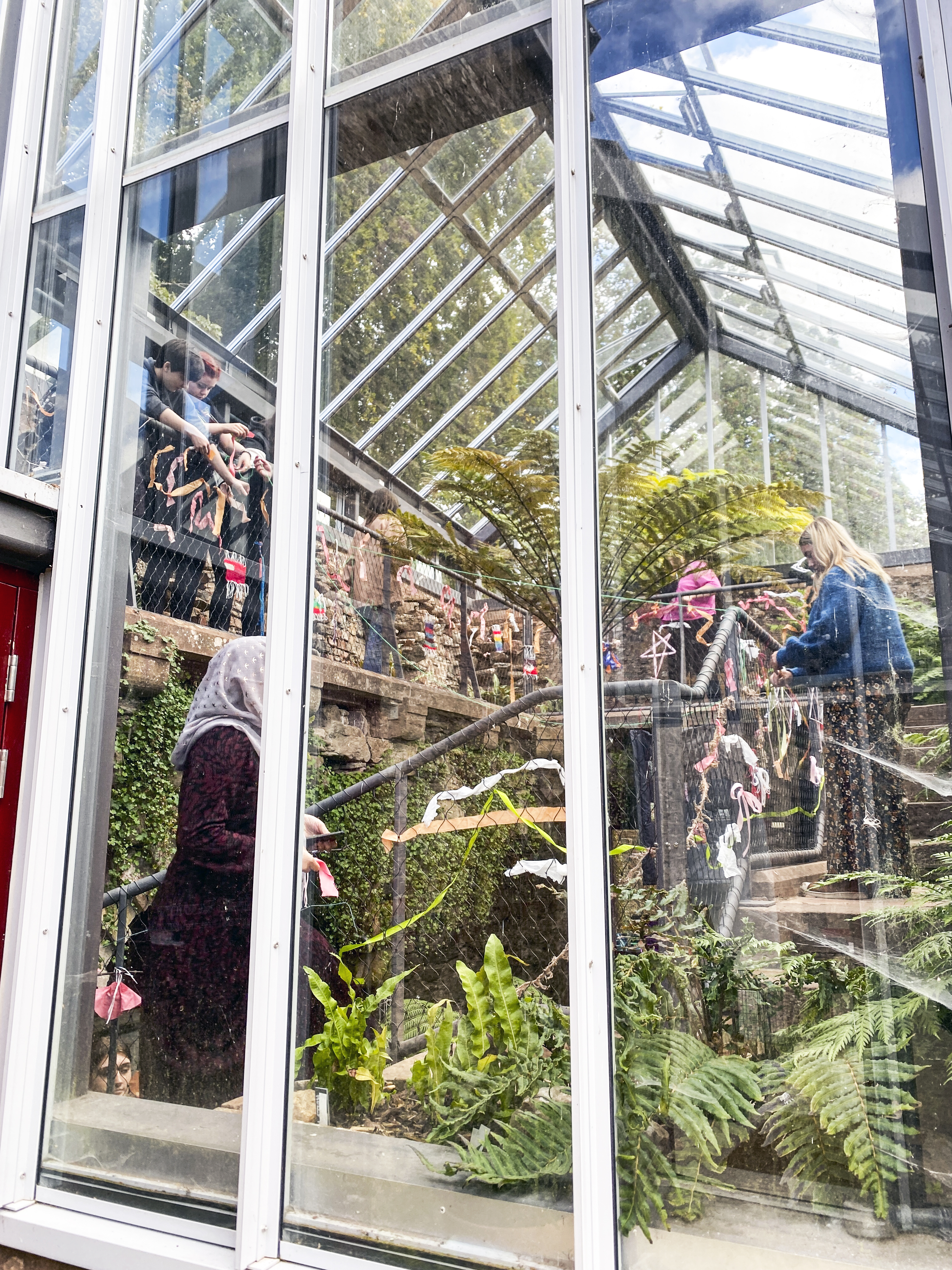 2022
Volk Gallery

Volk Gallery is a repurposed nappy vending machine, hung in the Keillor Centre shopping centre in Dundee. A rotation of products are dispensed at a set price of £3 each. Each Volk artists is given a size limit and a budget and left to their own devices.

Gifts for gods takes as a starting point the ancient practice of making and exchanging 'anatomical votives' – small, powerful clay scuptures designed to fit in the hand. I've used the ancient method of production – casting in terracotta clay – to make an edition of 50 votives across five original designs: mouth, eye, ear, hands and womb.

In the territories of ancient Greece and Rome unwell citizens visiting a healing sanctuary or temple, might buy a small model of a human body part from a roadside vendor to leave as an offering to the gods as part of a prayer. Archeologists have found huge stashes of these 'anatomical votives' at pre-Christian religious sites, but exactly how they were used by the individuals who first handled them remains a mystery. You might gift an ear to cure deafness or because you want people to listen to you...

Visitors were invited to pick one up for £3 and make a wish.